Protein-Packed Pasta Sauces
Launch at Coles in Australia
20th Sep 2023
Brace yourselves because NEXT! Foods is about to unleash a taste revolution that's going to blow your culinary minds! Buckle up and get ready to experience pasta sauces like never before. Hold onto your spatulas because we're NEXT! Foods, and we're about to drop a flavor bomb that will shake up your taste buds.
We're stoked to introduce you to our latest creation – an innovation that's so out-of-this-world, it'll make your taste buds do backflips. Say hello to our fresh, plant-based pasta sauces, the likes of which you've never seen before. And guess what? You don't have to embark on a quest to find them; they're hitting the shelves of over 550 Coles stores across Australia in late September 2023.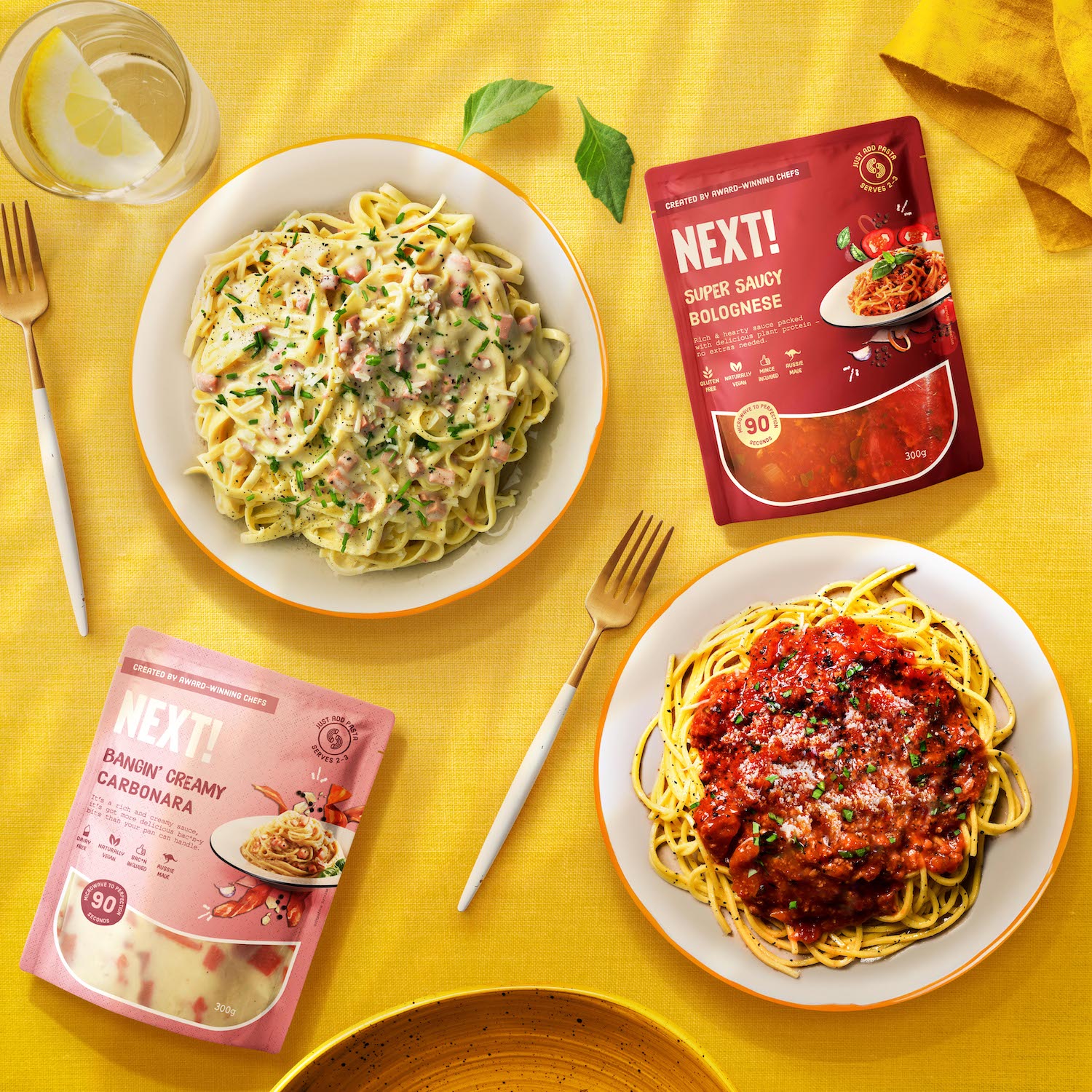 Imagine this: These bad boys are Australian-made, crafted by award-winning chefs from Michelin-starred restaurants. Their mission? To bring you the convenience of a gourmet plant-based pasta sauce right to your doorstep – no fancy reservations are required.
Now, let's talk flavors. We're launching with a bang, introducing "Bangin' Creamy Carbonara" and "Super Saucy Bolognese." But wait, there's more! We've got an arsenal of delectable options lined up that'll make your taste buds beg for mercy.
The secret sauce (pun intended) behind our extraordinary flavors? NEXT! Foods' plant-based meat. It's been turning heads and winning over taste buds with its mind-blowing resemblance to the real deal, both in taste and texture. It's meatless sorcery that'll even make meat lovers question everything they thought they knew.
Now, let's hear from our fearless leader, Biren Doshi, the co-founder and CEO of NEXT Foods. He's not just here to follow the rules; he's here to rewrite them.
"We're fanatical about creating mind-blowingly delicious plant-based foods for everyone," says Biren with a mischievous grin. "We believe that taste and convenience should never be compromised, whether you're a hardcore foodie or a busy parent. After three years of blood, sweat, and tears in the kitchen, along with countless taste tests with our squad of award-winning chefs, we're beyond excited to unleash this lineup of restaurant-quality classics. We genuinely believe these are the most badass, authentic-tasting sauces on the market, and the best part? You can whip them up in as little as 90 seconds!"
But hang tight, there's more to the NEXT! Foods saga. If you're looking to rock your taste buds and up your cooking game, follow us on Instagram at @nextfoodofficial. We're cooking up inspiration and dishing out flavor like there's no tomorrow.
So, mark your calendars, pasta rebels! Late September 2023 is when you can get your hands on these super tasty, protein-packed pasta sauces from NEXT! Foods. Get ready to redefine pasta night and take your taste buds on a wild, flavor-packed journey – all from the comfort of your own kitchen. Chow down and rock on!