Potato and
Bac*n Salad
Carbs, carbs, carbs baby! Who doesn't love potato salad? Whether it's for a BYO BBQ or a side with dinner, this creamy vegan potato salad is sure to hit the spot.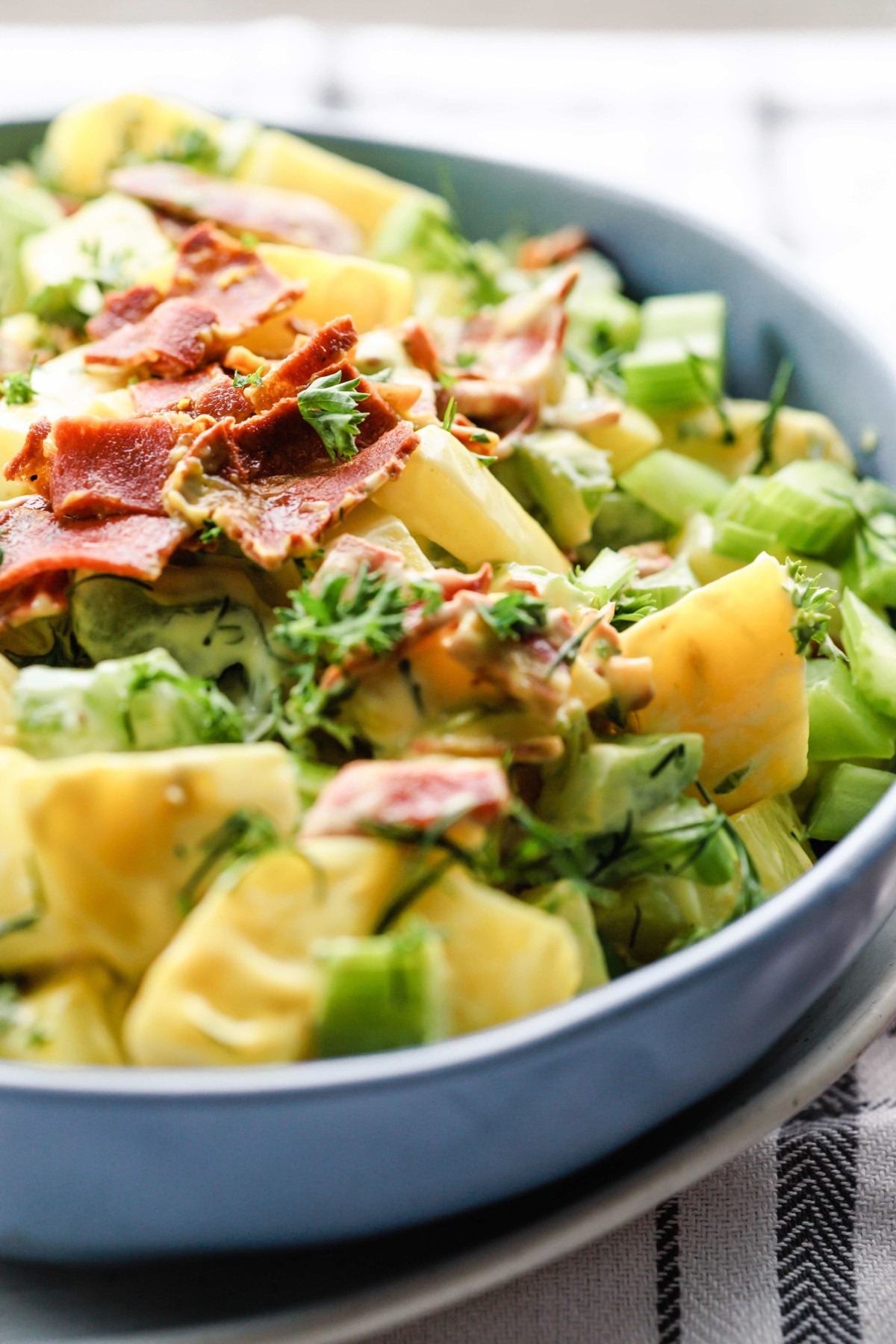 Ingredients (Serves 4)​​​​​​​​
1 pack NEXT! Bac*n style strips​​​​​​​​
6-8 potatoes (dependant on size)​​​​​​​​
4 stems of celery​​​​​​​​
Half a red (or mild brown) onion​​​​​​​​
1 tbsp mild Grain mustard (American if you want it tangier)
Pickled Gherkins to taste (recommend 3 reg sized gherkins)
Juice from the gherkin jar​​​​​​​​
Chopped chives and dill to taste (lots of fresh dill recommended but dried works well too)​​​​​​​​
3 tsp Paprika, salt and pepper to taste​​​​​​​​
Vegan mayo optional​​​​​​​​
Method
1. Skin and chop your potatoes into the size chunks you like in your potato salad​​​​​​​​
2. Put potato chunks in water to boil until soft and almost falling apart (but not quite).​​​​​​​​
3. While potatoes are boiling, cut or chop the NEXT! Bac*n style strips into smaller chunks or strips and fry until crispy (remove from heat and allow to sit)​​​​​​​​
4. Dice Gherkins, onion and celery into similar size chunks (recommend smaller than potato chunks).​​​​​​​​
6. Drain potatoes. While still hot pour on the pickle juice and add mustard, chives paprika, dill, salt and pepper. keep mixing as the pickle juice and hot potatoes create a creamy texture. (For an even creamier texture, vegan mayo can be added)​​​​​​​​
7. Add all other ingredients- Mix well​​​​​​​​
8. Leave to cool in the fridge (or eat warm- there are no rules!!) Serve and enjoy​​​​​​​​